Managing Director Gavan Knox from Hydrogen Fuel Systems – Perth, Australia.
The Economy Surrounding Hydrogen Tech is About to Boom and You Can Take Advantage!
Excitement has certainly been building around renewable hydrogen as a significant new green energy technology, both in terms of its potential in the domestic energy market as well as for export says Gavan Knox.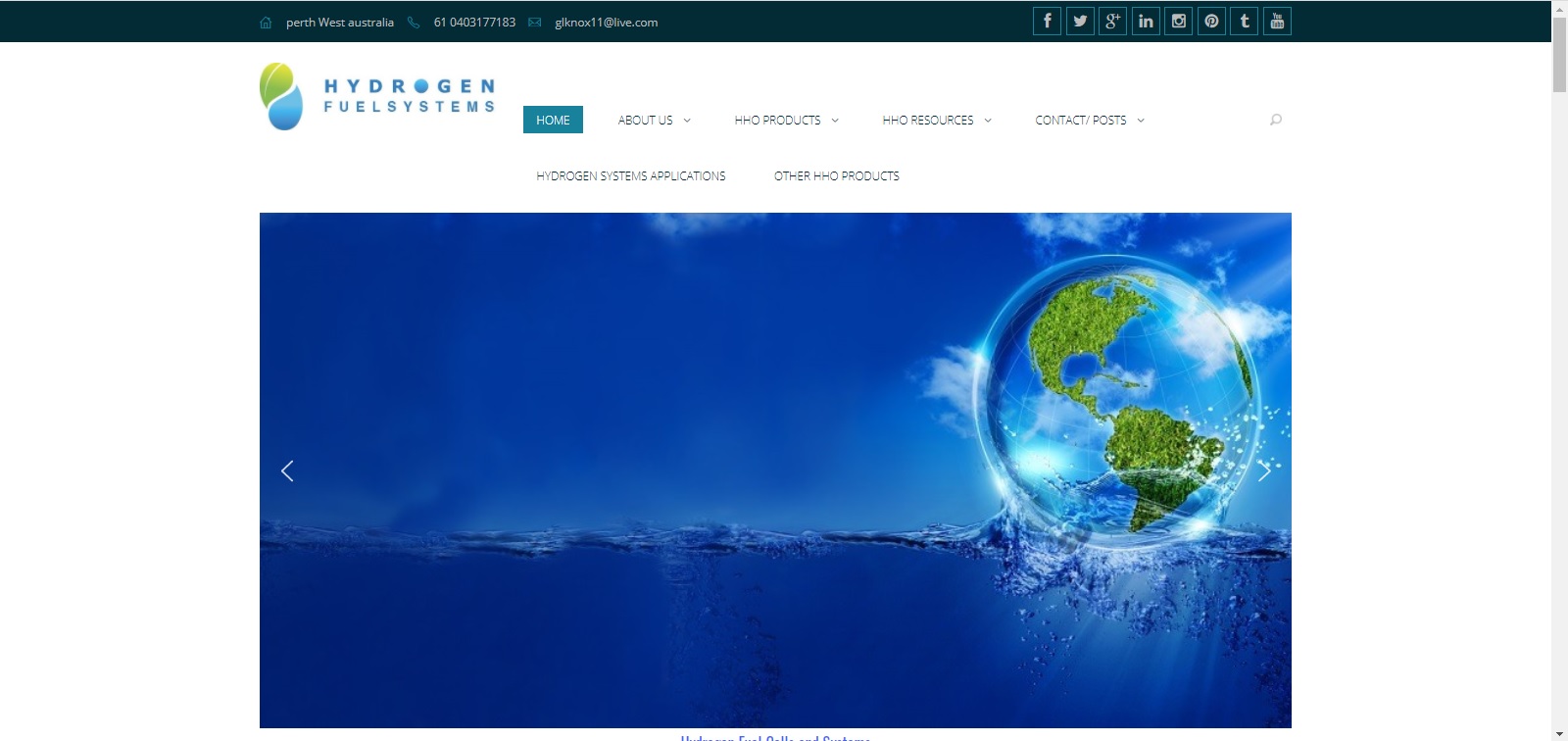 The Hydrogen systems we manufacture have been designed from valid chemical engineering principles as well as Theoretical Physics and Electro-Chemistry I employ in my work as Science Researcher and Teacher. There are many innovative aspects of my patents which as designed to increase the productivity of the patents , while reducing the waste of input electrical and Chemical energy. Other patented innovations Increase the longivity or lifespan of the systems and reduce the need for replacement servicing of invention parts.
There are several inventions on alternative energy products which are still patent pending, which will be released to the market once patent is approved.

Welcome to Hydrogen Fuel Systems…Gavan Knox is a professional Scientist / teacher / university researcher with 35 years experience. He is qualified with a Bachelor of Physics, Engineering, Education (chemistry) and is currently studying to complete his Masters in Chemical engineering (metallurgy). Hydrogen fuel systems Pty Ltd specialises in building alternative energy systems for use in internal combustion engines to improve the Fuel efficiency, Power output and Torque of an engine as well as reducing the toxic polluting gases produced by internal combustion engines.
The ultimate hydrogen generator system for cars, trucks, tractors and boats. Increase your vehicle power. Comes pre assembled, tested and ready to install in your vehicle.
Hydrogen fuel systems provides the complete Hydrogen fuel system kits for stationary and transport applications. We also offer consultancy and risk assessment for hydrogen feasibility studies.

Our Hydrogen fuel cell kit offer… We provide two hydrogen fuel systems solutions, one for transport and the other one for stationary applications. Use: Similar to any standard engine, the only difference being the fuel that fuel is hydrogen/diesel or hydrogen/petrol or hydrogen/LPG mixture
Emissions: Significantly reduced carbon and NOX emissions.
Proven track record: We have designed, installed, commissioned, maintained and operated hydrogen systems for over 12 years.
Installation: We provide a simple installation system instructions.
Hydrogen supply: We supply a complete hydrogen solution including the production of hydrogen water.
Hydrogen fuel cell kit for transport applications…
The Hydrogen fuel systems Team has designed several Hydrogen fuel systems models for a multitude of transport applications.
Hydrogen Systems Applications. Below provides some of the different options that we offer with our Hydrogen Fuel Systems.
These include the following versatile types of solutions:
1. Small hydrogen kits for cars applications.
2. Work vehicles and 4 wheel drive vehicles.
3. Large trucks.
4. Specialised vehicles including forklifts.
5. Boating systems.
If you wish to convert your fleet of vehicles, gensets or vessels to Hydrogen, please do not hesitate to contact us…
Contact: Managing Director -Gavan Knox
PH: 61 0403177183
Email: gavan@hydrogenfuelsystems.com.au
Web: https://hydrogenfuelsystems.com.au/
Facebook…
https://www.facebook.com/hydrogenfuelsystems.com.au/